ACHAFR Rotarian Drivers of Classic Vehicles (CH/FL); www.rdcv.ch
News of National chapters
5th Tour of Abruzzo's program
The fifth road tour of Abruzzo focuses on themes that are quite different from those of the previous editions.
Its cultural importance being shaped by the many professional witnesses it will offer alongside, that stretch out from nuclear physics to astrophysics, the tour is also meant to represent a great chance to experience a unique environment that stands out for being both nonuniform and rich, as it counts on a huge artistic, archaeological and architectural heritage.
At this purpose, the program includes a guided tour to the Gran Sasso mountain range, where participants will enjoy an underground visit to the nuclear physics laboratory, allegedly recognised as a worldwide center of excellence. The tour is scheduled to be undertaken on September 17, in the morning, unless any alternative activities are planned due to any hindrance that might occur.
However, the night before is going to be both exciting and fascinating as well, as the program includes a guided tour of the Abruzzo Astronomical Observatory, better known as the National Institute of Astrophysics.
The road tour is aimed to be a great opportunity for participants to immerse themselves into the history, landscapes, culture and traditions of an outstanding region while also enjoying the thrills of driving!
A draft of the program for ACHAFR and ARACI members is here provided, hoping that you may find it exciting and worth joining.
The definitive schedule is going to be published soon and will also include all the information concerning any required documents.
For the time being, the registration fee – that also includes the contribution for the charity project – amounts to € 740,00 (two people) and € 540,00 (only one person – double room for single use). All services are included, meals and use of the swimming pool, garage, guides etc. as well.
Subscription fees will be definitively set and published together with the definitive program.
The last day for registration is set on August 5th, 2022, therefore any required document must be sent
by that date to the mail address sandropelillo@gmail.com.
The only logistic point is going to be the following place: Hotel Il Parco Sul Mare (****), Tortoreto (TE), via Vascello 17/A, close to A14 Val Vibrata either coming from North or South, then following SS16 to Pescara – Giulianova. Telephone: 0861 777325; e-mail: info@ilparcosulmare.com.
Thursday, September 15th
– afternoon: arrival at the hotel;
– check-in;
– 7.30 p.m.: explanation of the program; – welcome toast;
– dinner.
Friday, September 16th
– breakfast;
– 9 a.m.: departure from the hotel;
– on the road;
– timed regularity tests;
– speed tests on kart with prizes on the edge of the track;
– departure to the hotel – a walk in the countryside;
– 1.30 / 2.00 p.m.: lunch at the hotel;
– relax (swimming pool available);
– 6.45 p.m.: departure to Teramo;
– 7.30 p.m.: apericena;
– 9.15 p.m.: departure to the National Institute of Astrophysics;
– 9.30 p.m.: guided visit – use of telescopes "per rimirar le stelle".
Saturday, September 17th
– breakfast;
– 9.00 a.m.: departure to Gran Sasso mountain range;
– guided tour of the nuclear physics laboratories (underground).
Alternative program in case of hindrance is to be considered: – 2.00 p.m.: lunch;
– following: from mountains to sea, departure to the hotel;
– 7.45 p.m.: L'auto nel cinema show, meeting with the author;
– 9.00 p.m.: gala dinner at the hotel with RC Teramo Nord Centenario; – award ceremony.
Sunday, September 18th
– breakfast;
– 9:15 a.m.: departure to one of the most beautiful Italian village;
– guided tour to the Roman church of Campovalano;
– guided tour to the Prince's grave in the Picena necropolis;
– 12:15 p.m.: tour of the Montesanto monastery, which used to be part of the Papal State before the Unification of Italy (Bourbon fortress of Civitella del Tronto);
– farewell lunch, embracing the real taste of Abruzzo (Teramo).
Those who intend to leave before September 18th, hence giving up the Sunday schedule, are kindly required to communicate it at the time of the registration. In this case, a reduction of € 25,00 per person will be applied.
Teramo
June 6th, 2022
Sandro Pelillo Head of the project RC Teramo Nord Centenario v. District 2090 Representative in ARACI
Info:
Sandro Pelillo (+39) 335 6651719
(+39) 0861 246015 (+39) 0861 253092
E-mail address: sandropelillo@gmail.com
New national chapter in Belgium
ACHAFR Belgium
With great pleasure the Board of ACHAFR welcomes our new national chapter in Belgium and thanks in particular messrs. Herman Deroost and Karl Gestels for their initiative and initial forceful organisation in setting up and introducing this Fellowship nationally.
With a widely respected fair and auction of vintage cars from Sept 3-5, 2021 the start of ACHAFR Belgium has successfully been brought to action. On that occasion the president of ACHAFR welcomed the latest 'member of the ACHAFR family' and wished it most success in its efforts to gain many 'petrol-heads' as participants in Belgium.
Herman and Karl continued their dynamic approach by immediately renting a stand at the respected vintage car fair Interclassics in Brussels from November 19-21,2021.(see www.intersclassics.be/nl).
ARACI event Parma 28-31 October
RRAF Cornwall Tour 25-27th April 2022
Organised by the same team as the very successful tours in Brittany, the Two Moors, the Loire and Normandy.
Commencing on the evening of Monday 25 th April, the tour will be based at the four star Penventon Park Hotel in Redruth, which has a rating of 8.6 on Booking.com. This well-appointed hotel has en suite rooms on two levels, plentiful secure parking, free wifi and a leisure club with an indoor pool. The price of £366 per person includes dinner, bed and breakfast for three nights, wine and coffee with dinner each night and a welcome reception on the first evening. The hotel is located on the edge of the historic mining town of Redruth and is easily accessible from the A30 – a journey of about 90 minutes from Exeter. The tour price includes all entry fees, tea/coffee stops and one lunch.
April is a great time to visit Cornwall – the roads aren't busy, the weather should be pleasant and the countryside will be looking at its best. We will visit the beautiful and varied coastline of the south coast and the north coast and villages and valleys in between. You may well have visited Cornwall many times but we guarantee that you will go to places where you haven't been before!
The first day of the tour will cover the south west compass quadrant – travelling close to the most southerly and the most westerly points in England – the Lizard and Land's End. We will travel the Atlantic Coast road between Land's End and St Ives, described as one of the most picturesque routes in Britain.
On the second day we will head eastwards, through China Clay country and up to the north coast, where we will visit the Cornwall Aviation Heritage Centre and afterwards there will be the opportunity to take part in a Regularity Stage. As on previous tours there will also be a photo competition to test your observation skills.
The tour will end with a celebration and prize giving dinner on Wednesday 27th April.
If you are interested, please use this Tour Entry Form or contact the RRAF-UK organisation.
Husumer Küstentour 12. bis 16. Mai 2021
Rotarische Oldtimer Freunde Deutschland (ROFD)
Die Rotary Oldtimer Freund Deutschland (ROFD) laden hiermit die Fellowship Mitglieder und andere Rotarische Freunde zur Frühjahrstour in den hohen Norden ein.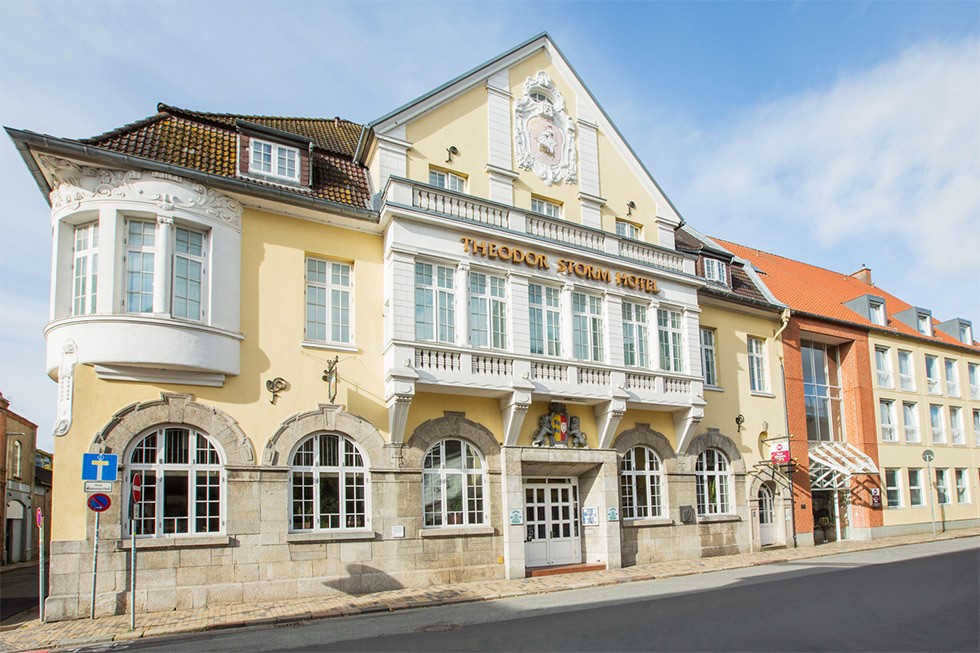 Ausgangspunkt der Tour ist das Theodor-Storm Hotel in Husum, ca. 150 km nördlich von Hamburg. Es liegt in historischen Gebäuden in der Nähe des Husumer Schlosses und ihm ist ein Brauhaus angeglie- dert.
Pre-Tour, Mittwoch, den 12.5.: Anreise
Am Mittwoch, den 12.5. besteht für diejenigen, die nicht den Weg über Hamburg nehmen möchten, die Möglichkeit, sich in Wischhafen zu treffen und mit der Fähre nach Glückstadt, Schleswig-Holstein überzusetzen. Treffpunkt ist um 13.00 Uhr am Fähranleger in Glückstadt. Von dort geht es dann noch gut 100 km auf Nebenstraßen über Brunsbüttel nach Husum.
Ab 19:30 treffen wir uns zum gemeinsamen Abendessen im Hotel und zur Ausgabe der Road Books für die erste Schleife.
Tour 1, Donnerstag, den 13.05.: Nordschleife
Es geht durch den Sönke-Nissen-Koog bis zur Dagebüll Mole (Fotomotiv Oldtimer und Meer), dann zum Nolde-Museum nach Seebüll und weiter nach Deutschland ganz oben links (Grenzstein auf dem See- deich). Nach einer Fahrt entlang der Grenze zu Dänemark geht es zurück über die Geest nach Husum. Die Schleife hat eine Länge von ca. 190 km.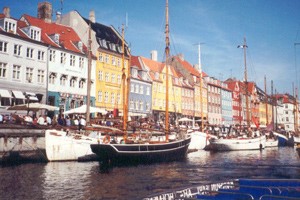 Nach der Tour treffen wir uns ab 18:00 im Brauhaus und ab 19.30 zum gemeinsamen Abendessen.
Tag 2, Freitag, den 14.05.: Ostschleife
Heute geht es hauptsächlich auf Nebenstraßen zunächst nach Schloss Gottorf, dann nach Schleswig und weiter über die Schleidörfer Straße bis Kappeln. Eingebettet zwischen weiten, grünen Wiesen und Wäldern, warten charmante kleine Dörfer mit prächtigen Gutshöfen und vielen ursprünglichen Reetdachhäusern auf unsere Entdeckung. Es geht über die Schlei nach Schwansen und bis Eckern- förde und dann über Owschlag und Friedrichstadt zurück nach Husum. Die Schleife hat eine Länge von ca. 210 km.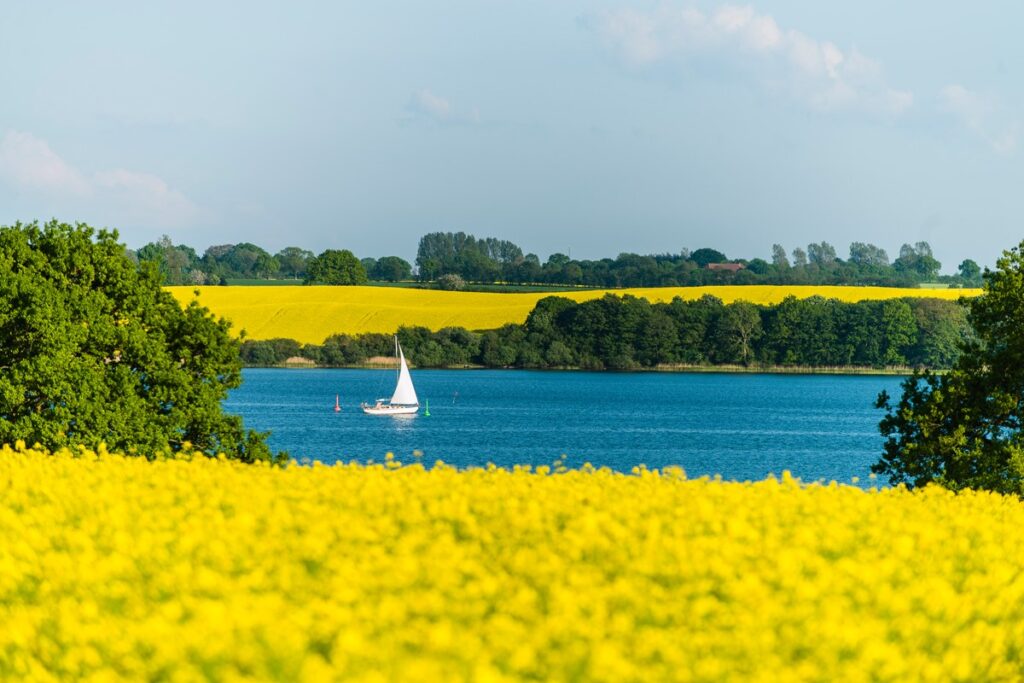 Am Abend treffen wir uns zunächst um 18:30 zur Mitgliederversammlung von ROFD. Danach geht es um ca. 19:30 wieder zum gemeinsamen Abendessen.
Tag 3, Samstag, den 15.05: Südschleife
Am Samstag geht es zunächst nach St. Peter-Ording mit einem Stopp auf dem Parkplatz auf Sand am Außendeich und danach über Büsum zur Seehundaufzuchtstation in Friedrichskoog. Von dort fahren wir weiter über Michaelisdonn, Meldorf, Heide, Lunden, Seeth, Schwabstedt bis nach Husum. Die Schleife hat eine Länge von ca. 200 km.
Am Abend treffen wir uns dann zuerst zum gemeinsamen Drink im Brauhaus und dann zum Farewell Dinner im Hotel.
Tag 4, Sonntag, den 16.5.: Abreise
Nach einem ausgiebigen Frühstück steht der Sonntag zur individuellen Abreise zur Verfügung. Auch besteht die Möglichkeit sich mit Freunden aus der Gegend zusammenzuschließen und noch ein Stück des Weges gemeinsam zurückzulegen.
ARACI/RC Terramo 4th Tour d'Abruzzo
The Tour starts !
From September 17-20 RC Terramo organises a very special and challenging tour in the mountains and parks of the Abruzzo – parco nazionale d'abruzzo e della maiella-.
9: arrival of participants at the base **** Hotel in Sulmona . Registration. Informal dinner
9: Parco Nazionale D'Abruzzo: Sulmona – Scanno – Pescasseroli then lunch. During the morning trip we'll stop and meet local guides, we'll stop at observation point for to see the local wildlife. Afternoon we come back to Sulmona with a Chrono race with road closed. Informal dinner at the Hotel
9: Parco Nazionale della Maiella – Sulmona – Canzano – Pescocostanzo – Lunch . Again during all morning trip we'll stop to meet local guides. Than we come back to Sulmona. Informal dinner at the Hotel
9: guided tour of Sulmona. Exposition of all in the central square of the town. Lunch at the hotel.
Registration fee is € 695,- for driver and co-driver, € 435,00 for single driver, including hotel, luncheons and dinners.
To supplement the information already done:
• The programme will be detailed on road book
• Event HQ: Sport Village Hotel (****) – Castel di Sangro (AQ)
• Registration fee (all inclusive), from 16th September dinner to 19th September lunch:
• Payment details:
Rotary Club Teramo Nord Centenario – 4° Tour d'Abruzzo
Banca di Credito Cooperativo di Castiglion Messer Raimondo e Pianella – Filiale Tortoreto Lido
IBAN: IT97M0847377070000000138825
BIC: ICRAITRRD50
Copy of bank transfer/ entry form/ self declaration must be send no lather than 4 august 2021 to: avvocati.pelillo@gmail.com
• It's recommended getting ready on board a suitable clothing for stops and visits to the crossed highlands
• Regularity stages are included on 17th and 18th September programme.
• Programme modifications are possible for logistic reasons
For further informations and registration: avvocati.pelillo@gmail.com
You should know that temperatures could be chilling around the mountains, so be ready, take with you binoculars.
For registration please use the form in this link and send it by email to avvocati.pelillo@gmail.com Registration form
3. Münsterländer Castle and Palace Tour postponed to August 22, 2020
1. The Event is postponed to August 22
The Rotary Clubs Dülmen and Lüdinghausen invite you to the 3. Münsterländer Castle and Palace Tour
On Saturday the 22nd of August 2020 we would like to invite you to our Münsterland castle and palace tour. Again, we have found new routes for you. We will drive on side roads about 200 km from castle to palace. It's a ride according to road book and not on speed. There are some puzzles to solve at the castles and palaces. From this and from the recognition of photos, the winners of the individual classes are determined.
Rotary Magazin Artikel: Panorama - Jubiläum der Oldtimer-Freunde
Panorama
Jubiläum der Oldtimer-Freunde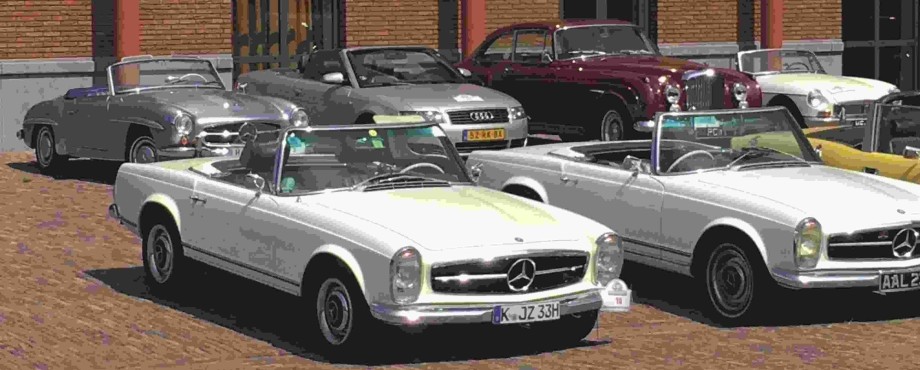 Oldtimer-Tour durch die Niederlande
01.08.2018
Die Antique , Classic and Historic Automobile world Fellowship of Rotarians (ACHAFR), die weltweite Fellowship für klassische Fahrzeuge, feierte ihr 30 jähriges Jubiläum mit einer Oldtimer Tour durch die Niederlande. Damit ist ACHAFR eine der ältesten Fellowships innerhalb von Rotary mit 12 nationalen Chapters in Europa und den USA.
Neben 13 teilnehmenden Fahrzeugen aus den Niederlanden, nahmen auch sieben aus dem Vereinigten Königreich, sechs aus Deutschland und eines aus Italien teil. So lässt sich in der Fellowship einmal mehr und ganz besonders die von Rotary postulierte länderübergreifende Freundschaft im wahrsten Sinne des Wortes erfahren.
Startpunkt war die Stadt Zeist. Von dort wurden in den nächsten drei Tagen Touren in alle Himmelsrichtungen bewältigt, meist natürlich auf landschaftlich reizvollen Nebenwegen, denn es gilt der Grundsatz: "Der Weg ist das Ziel". So kamen insgesamt zirka  500 Kilometer in Oldtimern wie dem Rolls Royce Silver Cloud, dem Bentley S2, dem Mercedes Pagode oder 190 SL zusammen.
Nächstes Jahr steht die jährliche Europa-Tour ganz im Zeichen der RI Convention in Hamburg. Am Donnerstag, den 30. Mai 2019 treffen sich die Teilnehmer auf Einladung/Initiative der Rotary Oldtimer Freunde Deutschland (ROFD) in einem Hotel in der Lünebur­ger Heide. Von dort aus werden sie in den nächsten Tagen die Region und die Convention besuchen.
Interesse an der Tour rund um die Convention:johannes.zilkens@rc-koeln-ambassador.de
Außerdem würde sich die Fellowship über neue Mitglieder freuen, die Freude an gemeinsamen Treffen/Fahrten in ganz Europa haben: www.achafr.eu
https://rotary.de/panorama/jubilaeum-der-oldtimer-freunde-a-12758.html
London Heritage Farm car show