International tours and events by ACHAFR
ACHAFR-/ROFD-European Tour Bavarian Mountains and Lakes Tour 20.6. - 24.6.2022
ACHAFR-/ROFD-European Tour Bavarian Mountains and Lakes Tour 20.6. – 24.6.2022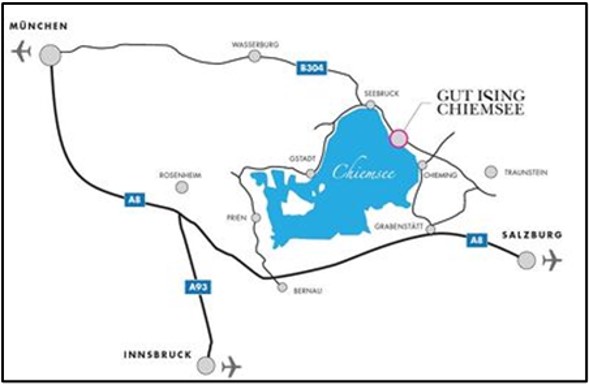 Go to Chiemgau, one of the loveliest regions of Germany
–  Hotel Gut Ising is located 100 km south of Munich and 40 km north of Salzburg, Austria

–  Distance to go from:
–  London 1.200 km

–  Rome 900 km

–  Paris 900 km

–  Amsterdam 900 km

–  Hamburg 860 km

–  Berlin 660 km
– How to come there:
–  With your classic car on your own

–  With car sleeper train from Hamburg, Duesseldorf, Verona to Munich or Innsbruck
Hotel Gut Ising is a perfect "Paddock"for the Tour
–  four star hotel

–  view on lake Chiemsee

–  swimming pool, SPA, sauna, fitness

–  golf court and horse-riding stables

–  excellent ratings from:

–  Booking.com 8,6/100

– Tripadvisor 4,5/5
Three legs across mounations and lakes of Chiemgau alps
Day 3
Leg 1, 21.6.22: Chiemseetour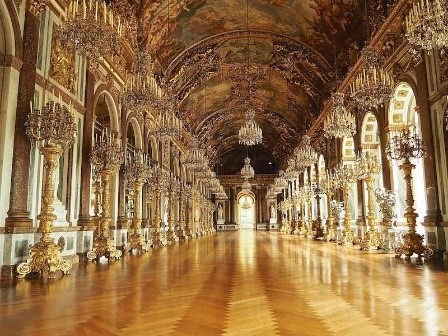 –  Streets: part of Deutsche Alpenstraße; total distance 160 km

–  Lakes: Förchensee, Lödensee, Mittersee, Walchsee, Chiemsee, Seoner See

–  Mountains: Hochfelln (1.674 m), Rauschberg (1.677 m), Kampenwand (1.669 m)

–  Sightseeing: Ship cruise on lake Chiemsee to Herreninsel where the palace of King Ludwig is located

–  Lunch: In a beer garden at Herreninsel, visit of the museum where the Constitutional Convention after World War 2 took place

–  Dinner: Meeting at the bar and common dinner in the hotel
Driving part of Deutsche Alpenstrasse/Visit of Herreninsel
Deutsche Alpenstraße:
–  1927 idea to build the street; oldest holiday route in

Germany

–  1932 begin of construction in Inzell

–  1939 already 275 km out of total 450 km built

–  Finished in 1960

Visit of Herreninsel:
– Ship cruise from Prien to Herreninsel

– Lunch in Schlosswirtschaft
– Visit of constitutional convent at Herrenchiemsee
Leg 2, 22.6.21: Berchtesgaden, Salzburg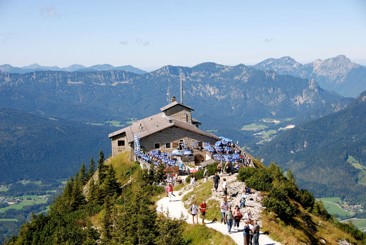 –  Streets: Rossfeldstraße (1.570 m) and Gaisberg (1.288 m), streets of famous hill climb races from 1929 to 1969; total distance 200 km

–  Lakes: Königsee, Waginger See

–  Mountains: Watzmann (2.713 m), Hoher Göll (2.542 m)

–  Lunch: Kehlsteinhaus (eagles' nest) near Berchtesgaden (1.834 m)

–  Sightseeing: Hangar 7 in Salzburg (Red Bull collection of race cars and air planes)

–  Dinner: Meeting at the bar and Bavarian evening with local food
Two famous hill climbing race tracks on one day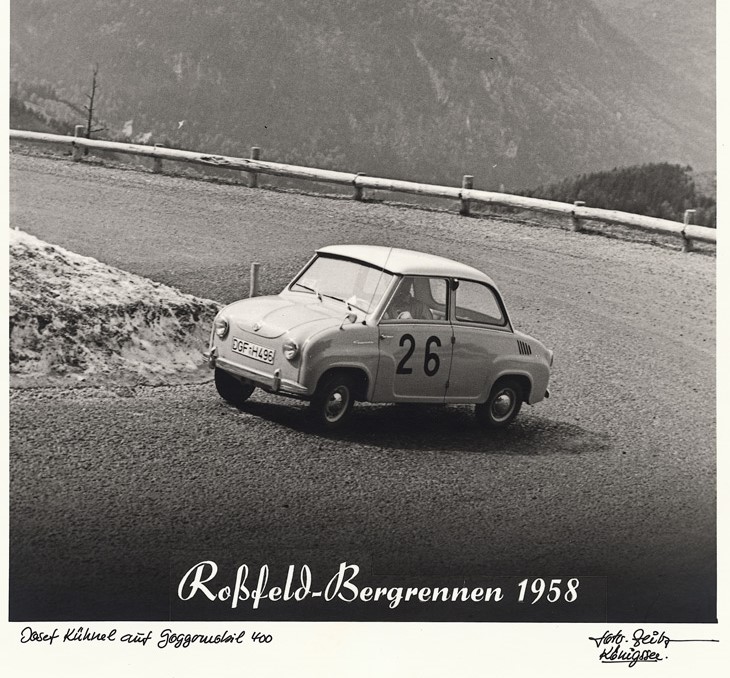 Rossfeld-Panorama Strasse:
– Germany ́s highest panorama street up to 1.570 m
– End of eastern part of Deutsche Alpenstraße
– Since 1928 hill climibing competitions
– Since 1958 international competition for several
classes up to formula junior cars
– Since 1961 until 1973 part of European hillclimbing
championship
– Distance 15 km/hight difference 1.000 m/ 13% max.
increase
– Since 1998 historic revival event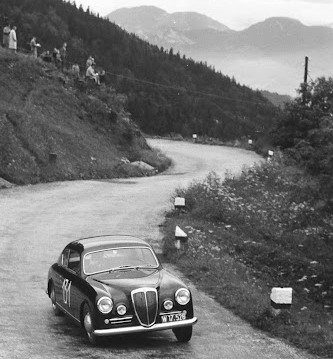 Gaisberg-Hillclimbing Race:
– Since 1929 hill climbing competitions
– Up to 25.000 visitors each year
– Distance 12 km/hight difference 800 m/ 6% average
increase
– Restart after world war 2 in 1952 until 1969
– Since 1957 parft of FIA european hill climbing
competition
– Since 2003 historic revival event
Leg 3, 23.6.21: Sudelfeld/Schliersee
–  Streets: Sudelfeldpass (1.123 m), part of Deutsche Alpenstraße; total distance 200 km

–  Lakes: Chiemsee, Schliersee

–  Mountains: Wendelstein (1.838 m)

–  Lunch: Markus Wasmeier Freilichtmuseum, beer garden

–  Sightseeing: EVA automobil museum, Amerang

–  Dinner: Gala dinner
Sudelfeldpass and EVA autmobile museum
Sudelfeldpass and hill climbing races:
–  Part of Deutsche Alpenstraße

–  Max. height 1.123 m, max. increase 16%

–  Length 23 km

–  International hill climbing races in the 60ies

–  Since 2103 historic revival events

EVA automobile museum:
–  250 classic cars bulit since 1886

–  Shown on 6.000 sqm in Amerang

–  Founded 1990 by Ernst Freiberger who became rich with

ice cream
Differnt Evening Events/Dresscodes
Fees and services included
1)  Voucher for food and drinks

2)  Drinks not included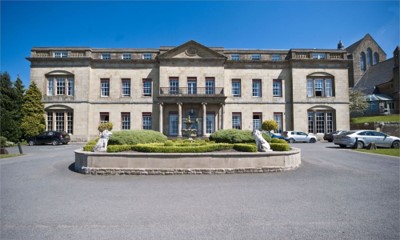 RRAF-UK/ ACHAFR Europe Tour 2021
Our achafr-rraf 2021 tour.
A date for your diary.
Following on from 2020 achafr-araci Italian Coast to Coast tour. Our 2021  tour is planned for Monday September 6th thro to September 10th Staying at the fabulous Shrigley Hall Hotel Macclesfield.
And using a 'clover leaf' system we will be touring parts of the Peak District National Park and into the delightful highways and by-ways  of Cheshire. The cost for 4 nights Dinner, Bed & Breakfast will be £920.00 per couple.
We will keep you advised of our planning and further details will be sent out every 4-6 months along with reservation and booking forms.
Warmest wishes and happy motoring
David (Spencer) Chairman rraf.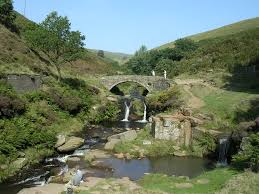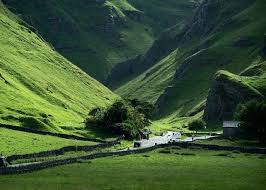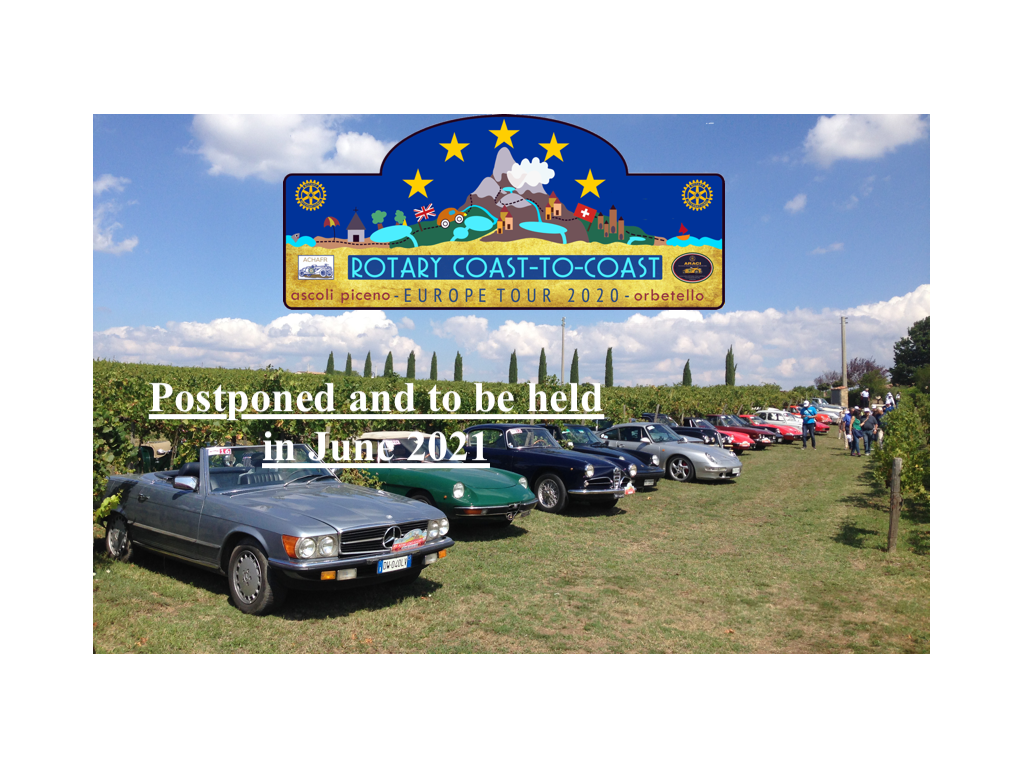 Important announcement about the 2020 Europe Tour Coast – to – Coast in Italy.
Due to the Corona crisis, the Europe Tour Coast – to – Coast in Italy this year, will be postponed and to be held in June 2021!
The International Fellowship of Rotarians passionate about Classic Cars (ACHAFR) organizes every year a European Tour to bring together Rotarians from all over Europe.
Each year a different country organizes the event. In 2019 it was the Germans who hosted us in Germany in Hamburg for the RI Convention.
In 2020 the appointment is in Italy and the European Tour will be the Rotary Coast to Coast 2020.
A very unique week in Central Italy for Rotarians and Classic cars !!!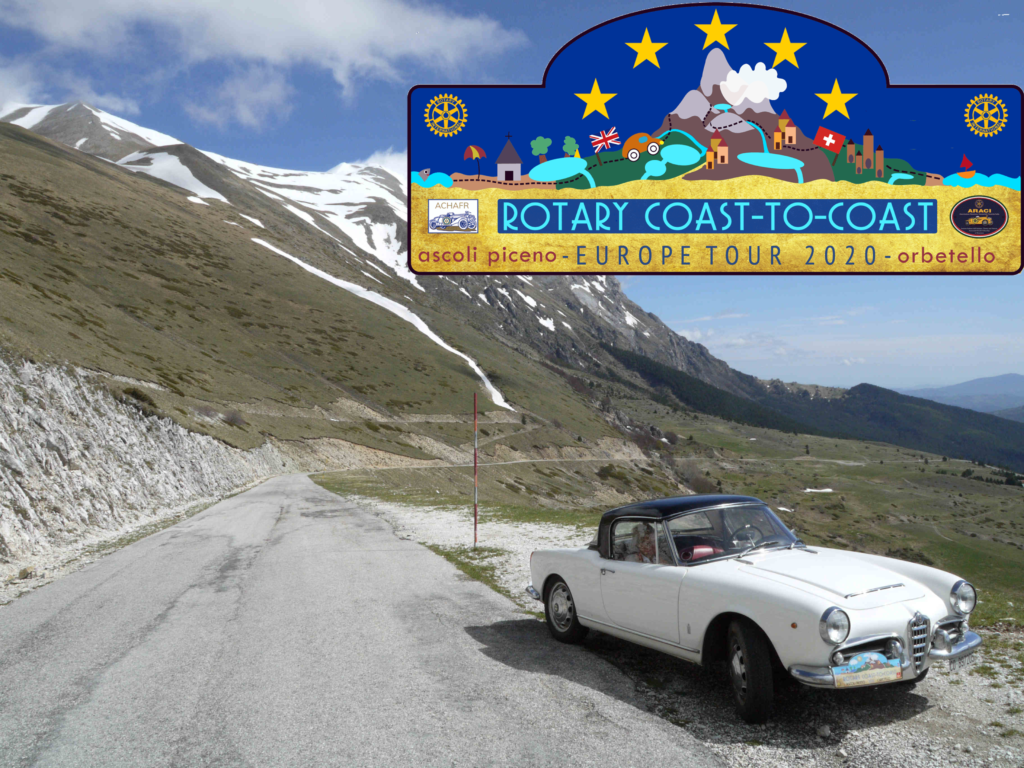 Tours and events by national chapters ACHAFR