News of National chapters
3. Münsterländer Castle and Palace Tour
The Rotary Clubs Dülmen and Lüdinghausen invite you to the 3. Münsterländer Castle and Palace Tour
On Saturday the 9th of May 2020 we would like to invite you to our Münsterland castle and palace tour. Again, we have found new routes for you. We will drive on side roads about 200 km from castle to palace. It's a ride according to road book and not on speed. There are some puzzles to solve at the castles and palaces. From this and from the recognition of photos, the winners of the individual classes are determined.
Rotary Diest (Belgium) event 2019 October 31, Zolder
Graag wil ik u attent maken op een event dat wij vanuit Rotary Diest organiseren op 31 oktober.
Op die dag houden wij een Track and Classics day waar we zowel de liefhebber van snelheid als van oldtimers een onvergetelijke dag gaan laten beleven.
Voor wat betreft het Classics gedeelte zijn er twee zaken toch het vermelden waard. Ten eerste gaan we een heuse old school auction organiseren en ten tweede een drivers experience waar, onder begeleiding, personen die nog nooit zelf een oldtimer hebben gereden kunnen leren hoe dit gaat. Er staan hiervoor een vijftal wagens ter beschikking.
Zoals u kunt lezen de moeite waard.
Meer informatie op www.rotaryday-zolder.be
The 2019 Gran Sasso Tour
This year, we have opted for one logistic base in Tourist Village "Lido d'Abruzzo" (four-star) in Roseto degli Abruzzi, Viale Makarska, equipped with pool, Spa, and accomodation for each crew (till a max of 4 people) in bungalows.Thus the participants are relieved from daily (un)packing.
The application form, including schedule for the payment of the all inclusive registration fee (three nights) must be delivered, because of imperative organizational requirements, at the latest by the 20th August 2019.
By submitting the application form you give full approval to the agenda, even in case of potential changes of schedule, and also exoneration of liability for the promoters in case of damage occurred to things or people related to the schedule.
Below the time-table, that will be completed with details of daily agendas and registration fee (including the solidarity contribution pro service):
20th September 2019- Roseto degli Abruzzi (seaside) – I Calanchi (natural patrimony) –Atri (City rich of art and history) – La Torre del Cerrano (medieval Tower by the seaside)
9.00 arrivals, registration, road book's presentation.
12.00 Departure
12.30 lunch
21.00 Informal dinner in Tourist Village "Lido D'Abruzzo".
21st September 2019- Roseto degli Abruzzi (seaside) – Gran Sasso National Park (Apennines).
8.00/9.00 Breakfast
9,00 Departure – while travelling there will be a time trial
Lunch (hostel located at 2115 metres above sea level in L'Aquila side of Gran Sasso d'Italia in Campo Imperatore's Plateu the highest in Europe).
21.00 Informal dinner in Tourist Village "Lido D'Abruzzo".
22nd September 2019- Roseto degli Abruzzi (Seaside) – Civitella del Tronto (City rich of history, art, and….surprises)
8.00/9.00 Breakfast
9.00 Departure
Lunch
21.00 Gala dinner in Tourist Village "Lido D'Abruzzo".
Award ceremony
In case of arrival in 19th September the overnight stay will be free in the Tourist Village "Lido D'Abruzzo" – dinner not included.
All inclusive subscription fee:
Driver € 435,00
Each Partner (max 3 for each driver because an equipe of 4 members will stay in the same bungalow): € 185,00
Bank detail: Wire transfer intested to "R.C. Teramo Nord Centenario – II Raduno auto classiche Abruzzo teramano"
Bank: Banca di Credito Coop. di Castiglione Messer Raimondo e Pianella – filiale di Tortoreto Lido
IBAN: IT97M0847377070000000138825
Info: Sandro Pelillo – (spelill@tin.it) – 3356651719 – Rotary Club Teramo Nord Centenario
Knoxville Breakfast Rotary Club Car Show, Saturday June 8, 2019
Knoxville, Tennessee  Car Show June 8th 2019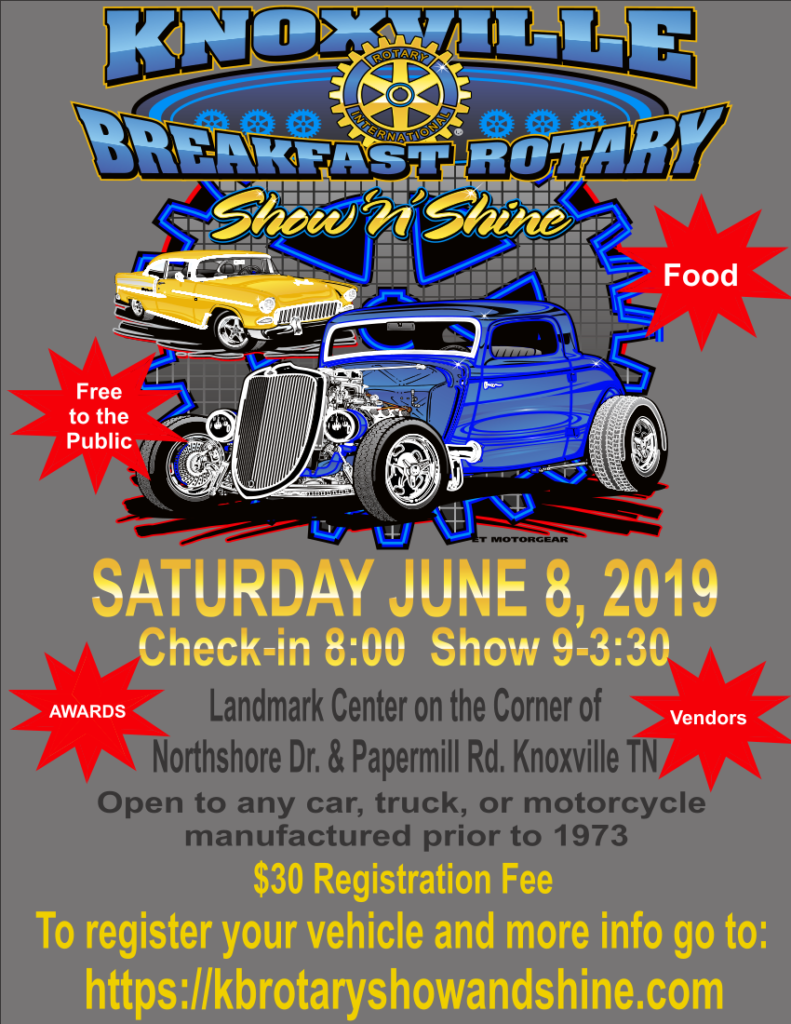 Gasparilla Concours Tempa
AAA proudly presents

Tampa's first Concours d'Elegance!

Gasparilla Concours d'Elegance Inc. is a

501c3 Charitable Organization.

Proceeds will benefit the

Shriners Hospital for Children in Tampa.
REGISTRATION OPENS SEPTEMBER 1, 2018
Join in on the first of it's kind event, one that combines the excitement of the Gasparilla social season (and springtime in beautiful Tampa Florida) with the elegance of a world class automotive event…
Be a part of the inaugural Gasparilla Concours d'Elegance.
Entrants

A true Concours d'Elegance is an invitation only event, to insure that only the most exquisite, rare and historically correct vehicles are on display. Please share your beautiful collectible car or motorcycle with the world by submitting your application online…
Sponsors & Vendors

Reach your target market and benefit a well established charitable organization. This is an excellent fit for any auto related company.

Volunteers

Car Club Members, Auto Enthusiasts, Philanthropic Individuals… join us as a Volunteer and help create the most memorable automotive event Tampa has ever seen!
The Gasparilla Concours d'Elegance Inc is an IRS recognized 501c3 Charitable Organization. All proceeds and direct donations for the 2019 Gasparilla Concours d'Elegance will benefit the Shriners Hospital for Children in Tampa.
We will be buying customized wheelchairs for kids in need. Wheelchairs will be on display throughout the events associated with the 2019 Gasparilla Concours d'Elegance and the Gasparilla Great Endurance Run.
You can donate directly and we will get you information on the wheelchairs you are contributing towards. Thank you for caring about your community and those in need!
The organizers of the Gasparilla Concours d'Elegance receive no compensation, and are truly volunteers. We do it for the love of our community, the love of great classic cars, and the love of the charity we support and the children they serve.
Rotary Magazin Artikel: Panorama - Jubiläum der Oldtimer-Freunde
Panorama
Jubiläum der Oldtimer-Freunde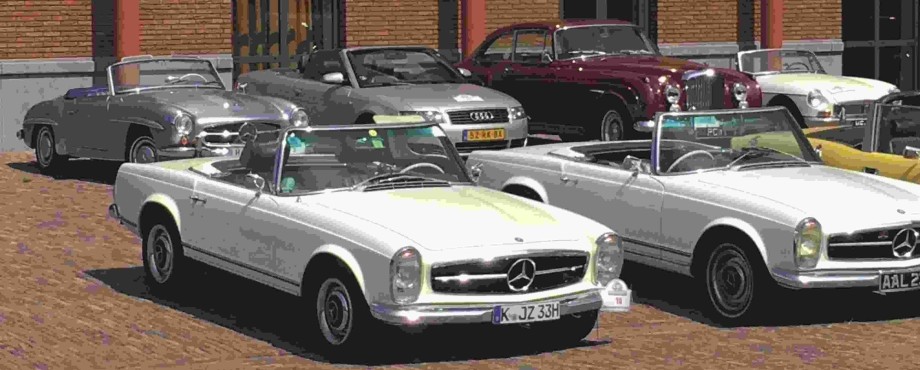 Oldtimer-Tour durch die Niederlande
01.08.2018
Die Antique , Classic and Historic Automobile world Fellowship of Rotarians (ACHAFR), die weltweite Fellowship für klassische Fahrzeuge, feierte ihr 30 jähriges Jubiläum mit einer Oldtimer Tour durch die Niederlande. Damit ist ACHAFR eine der ältesten Fellowships innerhalb von Rotary mit 12 nationalen Chapters in Europa und den USA.
Neben 13 teilnehmenden Fahrzeugen aus den Niederlanden, nahmen auch sieben aus dem Vereinigten Königreich, sechs aus Deutschland und eines aus Italien teil. So lässt sich in der Fellowship einmal mehr und ganz besonders die von Rotary postulierte länderübergreifende Freundschaft im wahrsten Sinne des Wortes erfahren.
Startpunkt war die Stadt Zeist. Von dort wurden in den nächsten drei Tagen Touren in alle Himmelsrichtungen bewältigt, meist natürlich auf landschaftlich reizvollen Nebenwegen, denn es gilt der Grundsatz: "Der Weg ist das Ziel". So kamen insgesamt zirka  500 Kilometer in Oldtimern wie dem Rolls Royce Silver Cloud, dem Bentley S2, dem Mercedes Pagode oder 190 SL zusammen.
Nächstes Jahr steht die jährliche Europa-Tour ganz im Zeichen der RI Convention in Hamburg. Am Donnerstag, den 30. Mai 2019 treffen sich die Teilnehmer auf Einladung/Initiative der Rotary Oldtimer Freunde Deutschland (ROFD) in einem Hotel in der Lünebur­ger Heide. Von dort aus werden sie in den nächsten Tagen die Region und die Convention besuchen.
Interesse an der Tour rund um die Convention:johannes.zilkens@rc-koeln-ambassador.de
Außerdem würde sich die Fellowship über neue Mitglieder freuen, die Freude an gemeinsamen Treffen/Fahrten in ganz Europa haben: www.achafr.eu
https://rotary.de/panorama/jubilaeum-der-oldtimer-freunde-a-12758.html
London Heritage Farm car show