International tours and events by ACHAFR
2017 ACHAFR / RRAF FLAT CAP, WHIPPET & FERRET TOUR
Flat Cap, Whippet & Ferret Rotary Car Tour 6th -8thJune 2017
This three day event for 49 cars / 99 people was organised for ACHAFR/ RRAF ( Rotary Fellowships for people with an interest in Classic / Interesting Cars) by two members of Pentagon. The three days consisted of toursto:- The North Yorkshire Moors & Whitby Harewood House, Bolton Abbey & the surrounding area The Yorkshire Dales; Grassington, Kettlewell, Masham. The participants came from England, Wales, Holland & Germany
Tours and events by national chapters ACHAFR
Rotary Coast-to-Coast event Italy
April 26th – 30th 2017 Rotary Coast-to-Coast event Italy
In the 4 day's tour the participants will cross the regions of Tuscany, Marche, Umbria, Abruzzo and Lazio. Ascoli Piceno in Marche and Orbetello in Tuscany are every year the starting point and the end of the tour but every year the itinerary changes.
The Rotary Coast-to-Coast event is organised by the Rotary Clubs of Ascoli Piceno and Orbetello Costa d' Argento with the help of the Rotary Clubs of Isola d' Elba, Massa Marittima, Cortona e Urbino.
For more information, fees and bookings, please visit the website of this event.
A nostalgic 1950's American Style Drive in movie experience and Tewkesbury Vehicle Festival
Ret 'Rotary Rallye 21 mai
Cher ami amateur de voiture ancienne.
Bonne nouvelle, le beau temps revient.
Voici notre invitation pour le 18 ème rallye du Rotary Liège Sud.
La formule a été un peu revue : une seule boucle avec 2 petits arrêts pour laisser refroidir la mécanique et huiler le pilote et le co-pilote, repas dès le retour avant la proclamation des résultats.
Le trajet sera un peu réduit et vous pourrez rentrer chez vous plus tôt . …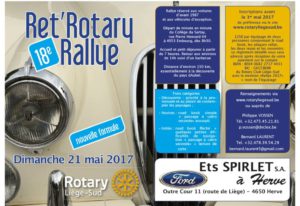 2018 RRAF - Tour de Normandie