International tours and events by ACHAFR
2017 ACHAFR / RRAF FLAT CAP, WHIPPET & FERRET TOUR
TUESDAY 6TH JUNE  –  THURSDAY  8TH JUNE
——————————————————————————————————————————————————————————-
The 2017 ACHAFR / RRAF Flat Cap , Whippet & Ferret Car Tour is now fully subscribed.
A reserve / standby entry list is being kept for entries received,  and should there be any withdrawals the place(s) will be filled by those on the reserve / standby list
Peter Wilson / David Spencer, 2017 Tour Organisers
——————————————————————————————————————————————————————————-
The ACHAFR / RRAF Flat Cap, Whippet & Ferret Tour for 2017 will be based at the 4 Star Aldwark Manor Golf & Spa Hotel in North Yorkshire, England.
The hotel is easily accessible from the A1 & A19 and only 15 miles (30 mins.) from York and 20 miles (40 mins) from Harrogate, neither of these destinations are included in the tour but within easy access for people wishing to visit before or after the tour.


http://www.qhotels.co.uk/our-locations/aldwark-manor-golf-spa-hotel-york/
We will have exclusive use of the Marston private dining room for the evening meals
The price includes three nights Bed, Breakfast & Evening Meal including wine, with a fourth night (Monday 5th June) being available on the same basis, this can be booked direct with ourselves when completing the entry form.
The hotels facilities (gym / swimming pool / sauna etc) will be available free to the Tour guests & Wi-Fi is free throughout the hotel.
There is the option of playing a round of golf on the hotels course at an extra charge.
The three-day programme will visit the Yorkshire Dales, Moors & Coast plus historic Harewood House & Gardens
Booking Information
The cost of the tour will be £700 based on two people sharing a room, there will be a single room supplement
Want to join the Tour?  Fill in the registration form.
Ferry Information
Aldwark Manor is approx 60 miles (90 mins.) from the P&O North Sea Ferries  Port at Hull, from here there are overnight ferries to Rotterdam & Zeebrugge for entrants coming from Holland/ Belgium / Germany & further afield, with ferries docking in Hull at approx 8.00am each morning.
The RRAF also have a Ferry Discount arrangement with AFerry for Ferries/Tunnel from other European destinations to the UK, which we suggest you explore by going to:
Tours and events by national chapters ACHAFR
Rotary Coast-to-Coast event Italy
April 26th – 30th 2017 Rotary Coast-to-Coast event Italy
In the 4 day's tour the participants will cross the regions of Tuscany, Marche, Umbria, Abruzzo and Lazio. Ascoli Piceno in Marche and Orbetello in Tuscany are every year the starting point and the end of the tour but every year the itinerary changes.
The Rotary Coast-to-Coast event is organised by the Rotary Clubs of Ascoli Piceno and Orbetello Costa d' Argento with the help of the Rotary Clubs of Isola d' Elba, Massa Marittima, Cortona e Urbino.
For more information, fees and bookings, please visit the website of this event.
A nostalgic 1950's American Style Drive in movie experience and Tewkesbury Vehicle Festival
Ret 'Rotary Rallye 21 mai
Cher ami amateur de voiture ancienne.
Bonne nouvelle, le beau temps revient.
Voici notre invitation pour le 18 ème rallye du Rotary Liège Sud.
La formule a été un peu revue : une seule boucle avec 2 petits arrêts pour laisser refroidir la mécanique et huiler le pilote et le co-pilote, repas dès le retour avant la proclamation des résultats.
Le trajet sera un peu réduit et vous pourrez rentrer chez vous plus tôt . …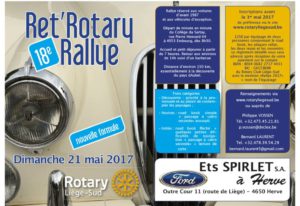 2018 RRAF - Tour de Normandie