Membership
Membership of National Chapters  is open to Rotarians, Past Rotarians, family members of (Past) Rotarians as well as program participants.
National Rotary Fellowships/ Clubs of  Classic Car owners are invited to become members of ACHAFR by accepting the ACHAFR Agreements and contacting the Secretary (secretary@achafr.eu).
By joining ACHAFR, the respective National Chapter agrees to contribute to it € 10,- per member per annum up to an overall  maximum fee of € 500,- per annum for the chapter  (via treasurer@achafr.eu).
ACHAFR will direct individual members to the nearest national chapter. Only in those countries, where there is no national chapter (past) Rotarians can become (life-time) members at a contribution of € 50,- per year or  € 200,- for life-time membership.
Want to join the ACHAFR?
Fill in the registration form below 
Please note the following:
With registration I agree to abide by the rules and regulations of the ACHAFR and have transferred the required € 50,- for a one year fee (or € 150,- for life membership) to the following account:
IBAN ACHAFR:    NL75ABNA0544726960
Board Members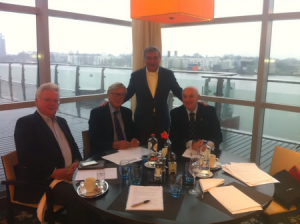 Matthijs van den Adel
President
Johannes Zilkens
Treasurer
Maarten Kaptein
Past President
---
OTHER CHAPTERS

We are looking for active Rotarians with a passion for vintage and classic cars to form a new and exciting Switzerland Chapter within ACHAFR Fellowship.
If you are interested please contact:
Manuel Dubs
Euelstrasse 54
CH-8408 Winterthur
—————————–
Tel. P       +41 (0)52 223 12 21
Tel. G      +41 (0)52 223 12 22
Fax P/G   +41 (0)52 223 12 24
Mobile    +41 (0)79 420 87 00
Email: manuel.dubs@beltrona.ch
Or
Michael Rye
---
William Raymond Rotary Club is looking for enthusiastic Rotarians who own classic, vintage cars to form a ACHAFR Chapter. 
Please contact:
Jaffery Rindge District
7870 New Hampshire USA